the salted earth key fob & skangler
This is a unique, one of a kind belt/key/wallet chain fob. You can attach wallet chains, key rings or other stuff to it, it's a nice change from the "norm", if there is such a fobby thing. The solid brass clasp is tough and cool.
This Fob has a one of a kind 1982 vintage penny domed concho that you will not see anywhere else. The fob is fully lined and glued, then stitched – this stinker will last a lifetime and look perfect as they age., This is a nice looking accessory for your belt , up to 1.75″ wide- different enough to be noticed, cool enough to be distinctive. if you wear a chain wallet – this is a good consideration This is riveted shut, no snap.
I hang my keys from the clasp – these fobs are handy.
This skangler is accessorized being brown/earth in color and surrounded by brass washers and a copper spacer.
The wire has been silver soldered making is super strong,
I also make knife and tool sheaths from heavy weight vegetable tanned cowhide. I've made guitar straps, leashes and wristbands – all with a different look and design as your commonly used to seeing. If you're looking for something you don't see, ask. I am always up for a challenge, within reason.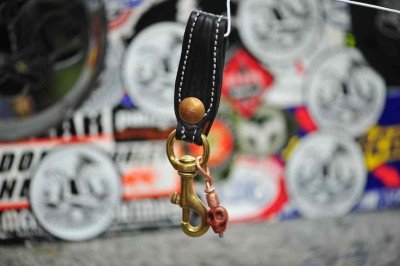 Posted: December 15th, 2015 under leatherwork projects, Uncategorized.
Tags: accessory, belt, birthday gift, custom, ETSY, fashion, fobs, gift idea, gifts. belts, handmade, holidays, key ring, leather craft, leathercraft, leatherwork, sheath, steveb, steveb leatherworks, wallet