One-off Brief Bag – for when you are traveling light for business
The bag you are looking at is the first of a series of bags that I am making.
Each one is unique and bespoke.  see more pictures  of the first one and buy it here
I am branching out and bringing my look and ideas to some other daily carry things, like this brief bag
Each one is designed individually, specially for that owner – but most are riffs off of this theme.
its classic, comfortable and it works, equally well for Men or Women.. depending on color and hardware.
This brief bag will handle a light laptop, iPad, keys and some other things, like phone chargers.
This is not a bag you stuff to the gills with crap and toss in the trunk.
We all like to travel light sometimes – maybe to a meeting, and this is the perfect bag to toss your writing journal, iPad, Mac Air and keys into. I can adjust the size to make you happy and to fit anything specific you might need.
I provide both a hand and shoulder strap. The strap is great if you plan on doing some walking- its very comfy and a piece of art. The strap and handle use simple, strong brass clasps and solid D-rings to attach to the bag. The inside of the bag is a single compartment with a small business card pocket, sewn to one side that has pen loops. This is a comfy bag to carry
The front flap uses a unique, classy closure and is lined with deerskin.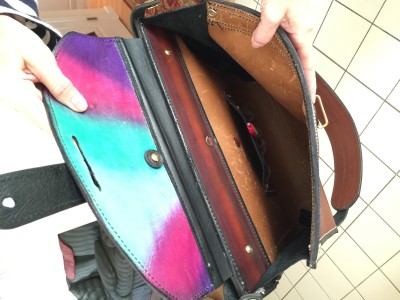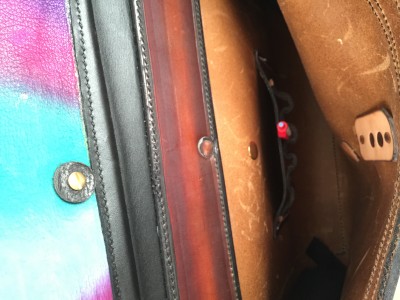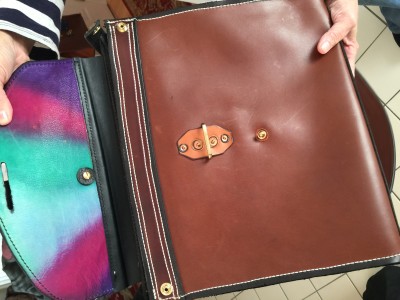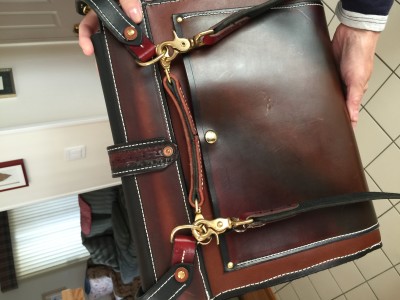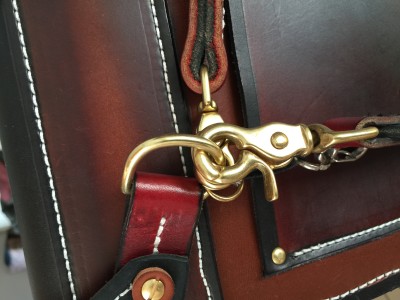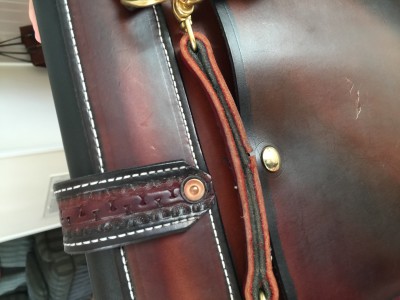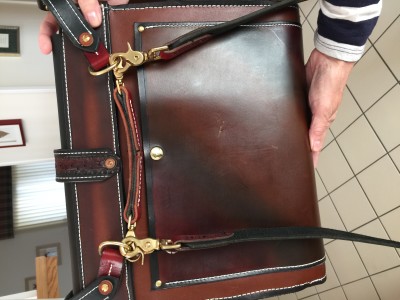 Posted: March 5th, 2016 under leatherwork projects.
Tags: accessory, belt, birthday gift, custom, ETSY, fashion, fobs, gift idea, gifts. belts, handmade, holidays, key ring, leather craft, leathercraft, leatherwork, sheath, steveb, steveb leatherworks, wallet