The Pugster: Instrument Strap
The Pugster is made of tough 8-10oz veg tan leather that I've lined with some really black chrome tan leather from Langlitz Leather – tough and comfy. Ive stitched it with 2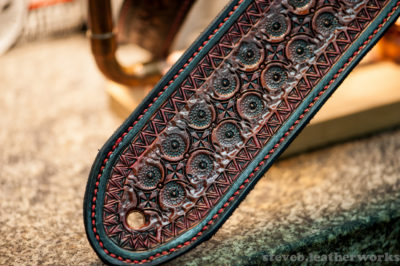 77 red thread and the rear strap has two coin conchos on the buckle billet, to attach to the rear of the front strap.
The beautiful nickel plated brass buckle is a solidly made sweetie domestically made !
The front strap (thick part that goes from the front of your instrument to over your shoulder ) measures 3″ wide x 45″ long. The rear strap measures 1.75″ wide (with a taper to 1″ on either end) by 24+" long. The strap has about 4-5″ inches of play in it, so if you tell me the longest you wear a strap and the shortest, I haven't punched any holes in the strap, so I can set up that rear strap to accommodate your requirements (with 5″ ).
If this doesn't make sense and I am writing Swahili, just email me,I 'll try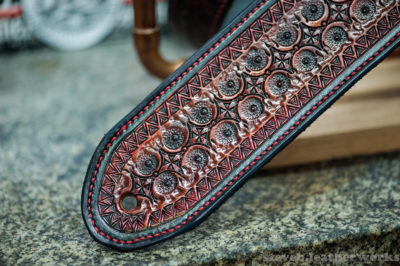 harder!
This strap is really a heavy duty beauty, it 'll last lifetimes and I can set if up with strap locks if that your thing – just send them to me, because I don't stock them, there are simply too many types. I got it set up with 3/8 holes
This is the shit for a bass player, but since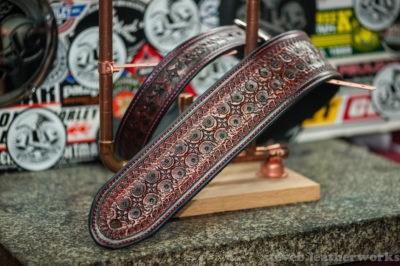 i dont discriminate, I'd say it it'll also kick butt for a 6-stringer!
If you're looking for something you don't see, ask. I am always up for a challenge, within reason….you can read through all the granular details on my steveb.biz website.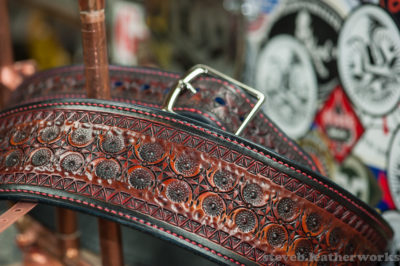 If you want to know how my customers like the work I've done for them, please take a look:
http://steveb.biz/notes/
Posted: January 25th, 2017 under leatherwork projects.
Tags: accessory, belt, birthday gift, ct, custom, ETSY, fashion, fobs, gift idea, gifts. belts, handmade, holidays, key ring, leather craft, leathercraft, leatherwork, mens fashion, NYC, sheath, steveb, steveb leatherworks, wallet