The Crusher: belt
The Crusher is a one custom, one-off belt, ready to be tailored to your waist measurements – around the brass buckle pictured. I will tailor the belt to your size, before it is shipped to you. the buckle is attached to a col billet with a coin concho i've made.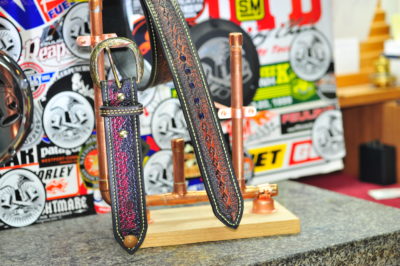 The Crusher has a wild deep brown, light brown kind of coloration. It is very cool, very different and kind of subtle in a uniquely obvious way- it also has my usual black edge and yellow thread..this is a heavy duty belt, made from 12oz Domestically tanned leather.! Badassedness personified, it be cool!
The Crusher has a cool keeper , that holds the tip of the belt (the billet) that has matching yellow thread. The penny that helps hold on the buckle end of the belt is a 1966 vintage. The buckle end is a wack blue/oxblood mashup.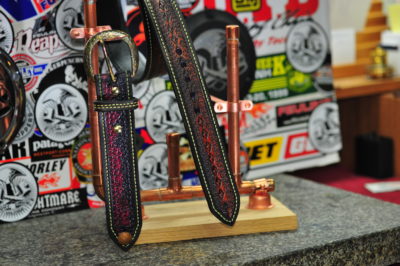 This belt has been cut from the very best domestically made 12oz (very thick), vegetable tanned leather. The belt is lined with mission grain pigskin and stitched with domestically sourced Yellow nylon thread, giving it a resilience to stretching, sweating and wear. I use only the best dyes, hardware and threads – and a ton of information is available on my web site.
http://steveb.biz/info.html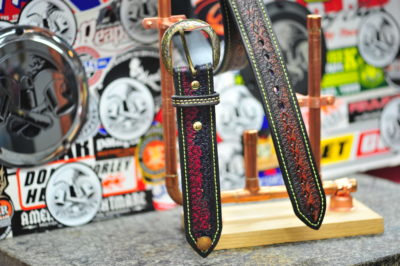 DETAILS of this belt:
The Crusher is 1.75″ wide, the buckle is a really well made domestic, custom oxidized brass buckle. OR – I can use your own buckle if it will accept a thick 1.75″ belt billet… I attach the buckle with Chicago screws so if you ever want to change up the buckle on your own, you'll be able to.
I also make knife and tool sheaths from heavy weight vegetable tanned cowhide. I've made guitar straps, leashes and wristbands – all with a different look and design as your commonly used to seeing. If you're looking for something you don't see, ask. I am always up for a challenge, within reason.
I have happy customers, please take a look:
http://steveb.biz/notes/
for more general info:
http://steveb.biz/info.html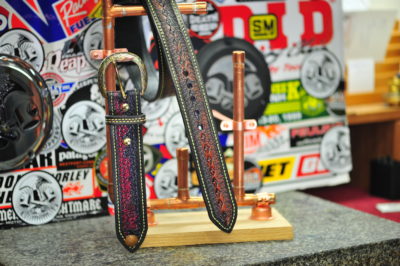 Posted: February 1st, 2017 under leatherwork projects.
Tags: accessory, belt, birthday gift, ct, custom, ETSY, fashion, fobs, gift idea, gifts. belts, handmade, holidays, key ring, leather craft, leathercraft, leatherwork, mens fashion, NYC, sheath, steveb, steveb leatherworks, wallet