Ok,come and get it, i mean, the Speedo rules. This isn't the banana hammocky kind of Speedo either. this speedo is a kickass piece of leather craft: 
the Speedo sheath & tool is a one-of-a-kind custom sheath case partnered up with a brand new Leatherman (the best) Rebar tool (also the best of their offering).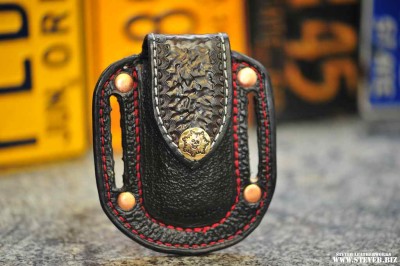 This sheath/case is made from the best, domestically made and sourced materials, by hand, by yours truly. the Speedo sheath & tool is a serious piece of utility and fashion, that sure as hell will stand the test of time.
I used a piece of 6oz veg tan in the front, and the back portion is made from 10oz -very substantial – and reasonably beefy – not overboard. Everything I make is lined,and this is no exception, its lined with mission grain pigskin, sewn with American sourced thread, on an American made sewing machine.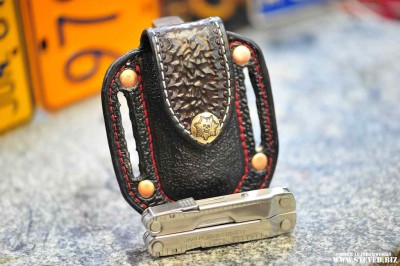 This is a neat design that really keeps safe and holds your tool securely- and be assured will last a lifetime, if you don't soak it in water repeatably or flog it mercilessly…. This sheath has a cool quarter snap, that I made= and is super duty – its just a serious piece of kit. – youll not see anything like it anywhere else… and if you do, please let me know!
The stamping is super textured up, really feels cool to the hand and will age wonderfully. The body of the sheath is a hand textured black and the "flap" is chocolate brown – very different.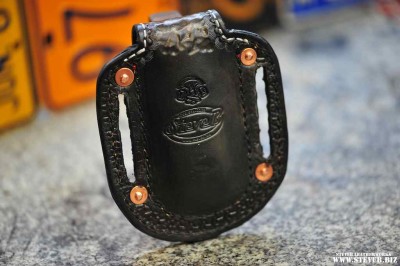 Hey gift givers – do you know a guy who likes leather (haha) a guy who likes having a tool on his belt? You know a guy who likes a bit of style and utility – then get it for him, this is for you.
Posted: July 21st, 2014 under leatherwork projects.
Tags: case, custom sheath, leatherman, steveb, steveb leatherworks, tool
Comments: none