The Icon is a one-of-a-kind custom sheath case partnered up with a brand new Leatherman (the best) Rebar tool (also the best of their offering).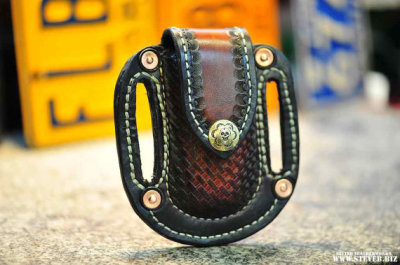 This setup is made from the best, domestically made and sourced materials, by hand, by yours truly. Icon case is a serious piece of utility and fashion.
This is a neat design that really keeps safe and holds your tool and will will last a lifetime, if you don't soak it in water repeatably or flog it mercilessly…. This wallet has a brass cool brass skull snap= and is super duty – its just a serious piece of kit. The case is fully lined, double stitched, glued and riveted. Like I said – this is serious – for the cost – it should be.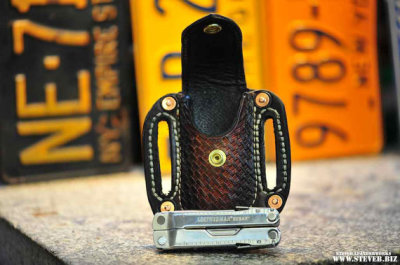 You know a guy who likes leather (haha) a guy who likes having a tool on his belt?
You know a guy who like a bit of style in a special place. – then get it for him, this is for you.
BUY THE ICON HERE
about the Leatherman Rebar:
With the new Rebar, Leatherman fans will immediately recognize the iconic box-like shape found in Tim Leatherman's original PST design. The Rebar pliers have been optimized for strength and feature replaceable wire/hard-wire cutters—a first for a four-inch tool from Leatherman. With all the features to get even the toughest jobs done, in a smaller, slimmer size, the new Rebar is sure to be an instant hit on job sites and home projects the world over.
If you're looking for something you don't see, ask. I am always up for a challenge, within reason….you can read through all the granular details on my steveb.biz website.
If you want to know how my customers like the work I've done for them, please take a look:
http://steveb.biz/notes/
Lots of info here:
http://steveb.biz/info.html
Posted: October 23rd, 2014 under leatherwork projects.
Tags: ETSY, for sale, handmade, steveb, steveb leatherworks
Comments: none